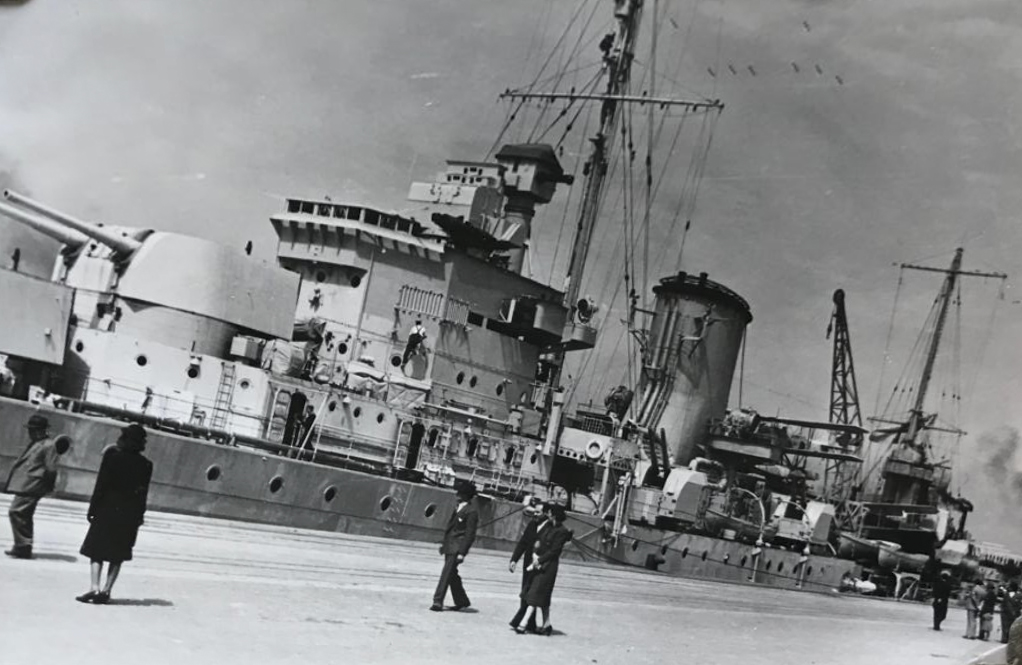 My mother was born of Scottish parents in the Argentine in 1919 and lived in Buenos Aires until 1942 when she travelled to Britain in a wartime convoy to be married.
She witnessed increasing Nazi influence in neutral Argentina in the build up to war. Some neighbours ran up flag poles with Nazi flags in the grounds of their houses and she remembered once going to confession and finding that whoever was the other side of the grill was clearly not a priest when she was asked quite inappropriately for information about her expatriate friends and acquaintances.
It was in this rather sinister environment that she became a ship visitor. Buenos Aires was a major port for British trade and both Merchant and Royal Naval ships were regular visitors to the River Plate estuary where, in December 1939, The Battle of the River Plate saw three British and New Zealand Cruisers bring about the end of the German pocket battleship Graf Spee which had been preying on merchant shipping across the Atlantic.
With a rich cosmopolitan culture, parks, striking architecture, café society, night spots, wonderful food and music and of course the exotic tango, Buenos Aires had long been known as the Paris of South America. The contrast between this and the tedium and tension of shipboard life especially in wartime must have been quite astonishing for young seafarers. My mother would have known all about the refinements of the city, she was courageous with a great sense of humour so with her as a guide they would have had an excellent tour of the city.
Her itinerary included tea-dances in the most glamorous winter gardens, a pure joy. In these circumstances she remembered Royal Naval sailors enjoying themselves in the same venue as their counterparts from German ships. They didn't come to blows but took the battle to their opponents through the medium of music. British sailors in her care would bribe the orchestra to play British music while on the other side of the hall the band would be taking payment to play German popular and patriotic tunes. This tunes happily with a seafarers sense of humour, enjoying life, detached for a while from harsh reality.
At the end of her story, she always remembered her greatest challenge was to get her charges back on board under the beady eye of the Officer of the Day, at the end of the afternoon, sober. That's where courage and humour were needed most.