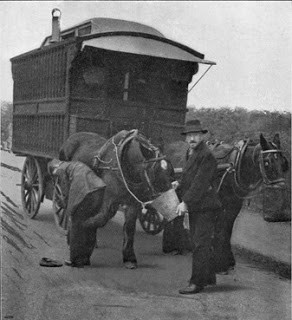 I have been a support of Stella Maris, the Apostleship of the Sea for a number of years now. My connection with the charity is a family one and stems from two quite separate elements of family history.
Firstly, my family is connected with one of the founders of Stella Maris, Peter Anson. Amongst his many accomplishments, he was a prolific author and talented artist. In 1934, Peter determined to tour England and Scotland in a horse-drawn caravan and advertised for a farrier to accompany him and to look after the horses. The successful applicant for this role (from 200 who applied) was my great-uncle, Anthony Rowe, the brother of my paternal grandmother. Beginning their journey at St Augustine's Datchet (where my father went to school and where two of Anthony's brothers were priests and taught) on Ash Wednesday 1934, they travelled through England into Scotland, turning around at Fort William to begin their journey south. Two books emerged from this journey:
"The Caravan Pilgrim" by Peter Anson and "The Brown Caravan – A Yorkshire Tyke's Wanderings in the South" by Anthony Rowe (with illustrations by Peter Anson).
As you might imagine, Anthony is something of a legend in my family and from an early age I was keen to learn more about Peter Anson. Doing so led me, in part, to Stella Maris.
The other connection is closer to home. My paternal grandfather was a ship's engineer and worked on and around the Tyne. My father developed an interest in ships and seafaring which has lasted throughout his life. My formative years were spent in Preston, Lancashire which at the time had a thriving dock. My father's interest in ships led to he and I spending many Saturday mornings watching the various ships arrive and unload, load and leave and – from time to time – accepting invitations to board ships and visit the captain in his cabin. My father's principal hobby is marine vexilology – the study of the flag and funnel insignia of ships and shipping companies – and in his prime was corresponding around the world in connection with his hobby. He still possesses one of the world's largest collections of ship's flags and funnels and has himself been published on this topic:

"Survey Of Mercantile Houseflags & Funnels" by J.L.Loughran (1979).